Security Products in Tuticorin
A home security system includes motion sensors, indoor and outdoor cameras, glass break detectors, door and window sensors, yard signs, window stickers, smoke detectors, and carbon monoxide detectors. Your family and home are kept safe from a variety of threats by these alarm system components.
What is CCTV security cameras?
Closed Circuit Television (CCTV) is a closed system that consists of video cameras, display devices (monitors), and wired or wireless networks for transferring images.
Other devices, such as servers, disk storage, and client computers, are often included in video surveillance systems along with cameras and monitors. Security products in Tuticorin and other information systems can also be integrated with video surveillance systems.
In addition to ensuring security products in Tuticorin at protected sites, video surveillance systems monitor personnel activities and keep track of production processes.
Types of CCTV
It is possible to classify surveillance devices into nine types. Dome, bullet, C-mount, PTZ pan tilt, Day/night, Infrared, IP, Wireless, and HD are among them.
How Does CCTV Work?
It's not complicated, but it does depend on the type of system and the components you use. However, the overall process remains the same. A CCTV system includes at least one camera, lens, monitor, and recorder, and can be scaled up or down based on the size of the area being monitored.
An individual can view CCTV footage on an LCD monitor by viewing a constant sequence of images taken by the camera or cameras. The images are then transmitted by cable or wirelessly (depending on the type of system chosen) to the recording device and then to the display monitor.
Depending on the type of camera used, they may also be able to zoom in and out and rotate 360 degrees. There are many types of CCTV systems with a variety of cameras that can be used for a variety of purposes, such as night vision, thermal imaging, and recognizing number plates. In general, there are two types of systems: Wired: Cameras and hardwired: the rest.
What are the benefits of home security products in Tuticorin?
As a result, privacy and security are maximized. Because this system is reliable, it is often used for traffic monitoring, building and grounds security, and medical facilities. As well as keeping your home and occupants safe, the security products in Tuticorin can help maintain peace of mind.
Eurovigil ID
The Eurovigil Access Control System combines the convenience of a keyless door lock with the enhanced security of biometric access control. The lock can be opened with a fingerprint, a card, or a PIN.
Using fingerprints, GSM technology, monitoring cameras, alarm systems, and password systems, this paper presents an enhanced methodology for implementing and designing door locking security products in Tuticorin.
The security products in Tuticorin will limit unauthorized access and keep a record of those who pass through it. There are times when unauthorized individuals or burglars try to break into a place where no one is available.
Therefore, therefore, this paper introduces some security products in Tuticorin to cope with that problem. An alarm system is used to alert people in the vicinity, a GSM module is used to send an SMS message to the registered user (responsible person), and a webcam is used to take a video of someone who tries to break the lock; a password keypad is used after fingerprint sensing for additional security products in Tuticorin. The lock is only accessible to registered users, and the door closes after five seconds.
The opening time. An Arduino microcontroller-ATMEGA328P is used to control the locking and unlocking process of a door with the help of a fingerprint scanner R305. All openings and closings are displayed by the 16×2 Liquid Crystal Display (LCD) which can be used for instructions like placing the finger on the sensor, opening the door, closing the door, sending a message, and entering the password, etc.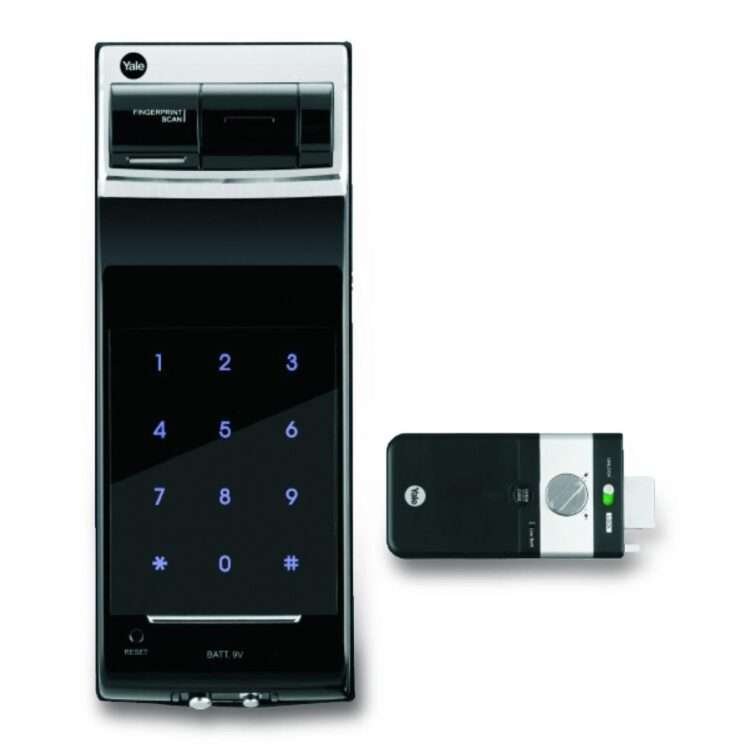 Unregistered users who try to access the door using their fingerprints are automatically denied access. Home, office, banks, hospitals, and other governmental and private sectors can all benefit from the proposed door lock security products in Tuticorin. Based on real-time testing, our proposed system showed competitive results compared to other projects that used RFIs and passwords.
Smart locks are safer than key locks, right?
If you forget to lock up, smart locks offer the same level of security as traditional locks, despite the ease of access. The majority of smart locks use a traditional deadbolt, so they are just as secure as traditional locks.
What is the level of security of smart locks?
In their simplest form, smart locks are just automated versions of traditional locks. It may even have the same locking mechanism, but it can be operated remotely and electronically. The main difference between smart locks and traditional locks is the type of interaction required.
When it comes to security products in Tuticorin, smart locks are very similar to traditional locks if you forget to lock them up. They offer ease of access and can be locked from anywhere. Due to the fact that most smart locks work with a traditional deadbolt, they are just as secure as traditional locks.
When you compare smart locks to traditional locks, the one disadvantage is the accessories you can use to make them more secure. Due to their design, some smart locks cannot be used with certain additional features. When it comes to upgrading the security of traditional locks, modifications are a bit easier.
Which is Better for Security?
With traditional locks and smart locks, the locking mechanism is likely to be the same, but what you prefer for security will depend on your preferences. It is possible for smart locks to be attacked by cybercriminals. It is possible, however, to gain a very secure lock if you choose the right smart lock and its features.
Traditional locks with a strike plate and other features are the best security option for most homeowners. With the right installation and accessories, you can still get excellent security products in Tuticorin.